New and completely revised edition of the popular development education resource – now widely used at introductory university level; among teachers and students at senior post-primary level; by NGO personnel in education and training as well as in adult and youth education contexts.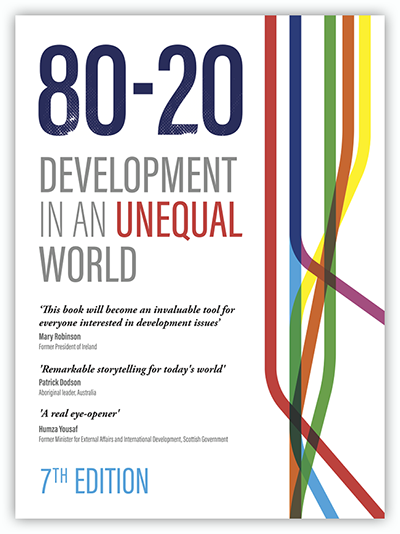 €21.95
Special Price: €15       
Status: IN STOCK
Buy 3 and save a further 25% by entering discount code 25off7th at the checkout
80-20 Development in an Unequal World introduces, explores and challenges key issues and daily realities in human development, human rights and sustainability in our increasingly unequal world.
Launched during an the era of rising inequalities, the global challenges of addressing climate change and during the formative years of the global goals for sustainable development,  80:20 Development in an Unequal World seeks to make human rights realities and global issues accessible as an agenda that we must not only learn but also dare to teach.
Co-published by 80:20 Educating and Acting for a Better World (Ireland) and the New Internationalist (UK), the 7th edition:
Provides a comprehensive introduction to the many key challenges the world faces today
Explores several cross-cutting issues within development: poverty, climate change (and climate justice), sustainability women's rights (and wrongs), human rights and key issues of focus such as unfair trade and the economics and politics of inequality and overseas aid, the current economic and financial system, understanding migration and the nature of activism
Is driven by stories, illustrations, introductory overviews of a key issue, examining global trends and by posing moral dilemmas across each of its 15 chapters
Critically reviews recent international agreements such as the Sustainable Development Goals (SDGs) and the Paris Agreement on climate change
Is backed up with a suite of educational support materials (coming soon).
Is written and illustrated by an international group of authors and educationalists and has been completely revised and updated for the 7th edition as an invaluable primer for use in a variety of educational contexts
*For class packs and group order discounts and queries, contact shop@8020.ie
---
What others have said:
'A pedagogical gem' – Richard E. Rubenstein – School for Conflict Analysis and Resolution, George Mason University, USA
'Remarkable storytelling for today's world' – Senator Patrick Dodson, Aboriginal leader, Australia
'This book will become an invaluable tool for everyone interested in development issues' – Mary Robinson, President of the Mary Robinson Foundation & Climate Justice
'Bobby Kennedy said used to say, 'Show me where to stand and I shall move the world'. But sometimes before we move forward we need to know where we stand. 80-20 is a book that helps us do that. It is, as President Michael D. Higgins said, a book of 'hope and courage' and with an informed optimism that is so really needed right now.

It's on my desk and it's going to stay on my desk' – Dominic MacSorley, CEO Concern Worldwide
'80-20 Development in an Unequal World is a valuable resource aimed at the conscientization of scholars, global and development educators, and students of all ages and backgrounds in informal as well as formal education. Most importantly, it discusses the processes of change, indicating how we can organize to advance policies that favour the creation of an international peaceful, sustainable and just social order' – International Journal of Development Education and Global Learning
'80:20 Development in an Unequal World is attractive, engaging, challenging and never simplistic or patronising and could allow schools to put global issues at the heart of the curriculum' – Professor Brian Boyd, University of Strathclyde, Scotland
'To a student teacher, picking up a high-quality resource provides confidence that capturing the imaginations of their pupils is possible and the seventh edition of 80-20 certainly falls into this category' – Policy and Practice: A Development Education Review
'Whether the educator is experienced or just starting to teach development in an unequal world, 80:20 is likely to become a treasured and much used asset' – Gerry Jeffers, Maynooth University, Ireland
'This book remains a compulsory companion for students in sociology, development studies, geography and in general all social sciences' – Frik de Beer, Professor Emeritus, University of South Africa
---
For more: see book tour details and read about the book's contributors and authors.
Download: editor's introduction, contents and front-matter and chapter 1 Wealth, Poverty and Human Development – New Extremes by Colm Regan and John Dornan
Orders: bulk orders (for departments etc.) and discount queries contact shop@8020.ie
Editorial and review queries: To speak to the editors of 80-20 or for a review copy: review copies (for journals/publications/websites etc.) and editorial queries contact tony@8020.ie
Sample pages:
---
Editors: Tony Daly, Ciara Regan and Colm Regan
Published by: 80:20 Educating and Acting for a Better World and the New Internationalist
ISBN-13: 978-1-78026-316-8
Dimensions: 200 mm x 260 mm
Page extent: 308
Publication date: Winter 2016
Authors: Bertrand Borg, Mary Rose Costello, Tony Daly, Amal de Chickera, Michael Doorly, John Dornan, Phil Glendenning, Lorna Gold, Omar Grech, Patrick Hayes, M. Satish Kumar, Jerry Mac Evilly, Beatrice Maphosa, Grace McManus, Paul Power, Toni Pyke, Ciara Regan, Colm Regan, Roland Tormey
Cartoons and illustrations: John 'Brick' Clark, Claudius and Martyn Turner
Design and graphics: Ray O'Sullivan Jr. (Pixelpress.ie) and Dylan Creane (Gush Design)
Photographers: Gareth Bentley, Elena Hermosa, Saiful Huq Omi and Amy Scaife
---
Contents
Foreword by Senator Patrick Dodson
Editor's Introduction by Tony Daly, Ciara Regan and Colm Regan
Numbers, Perspectives and Politics – an illustrated introduction
PART 1: key ideas and cross-cutting issues
Chapter 1: Wealth, Poverty and Human Development – New Extremes by Colm Regan and John Dornan
Chapter 2: Development – the story of an idea by Tony Daly M. Satish Kumar and Colm Regan
Chapter 3: Sustainable Development – 'enough for all, for ever' by Roland Tormey
Chapter 4: Human rights and development – 'a right, not an act of charity' by Omar Grech
Chapter 5: Justice and Development – 'an illusion of innocence…?' by Colm Regan
Chapter 6: Development and Politics – two sides of the same coin? by Toni Pyke
Chapter 7: From the Poor to the Rich by Bertrand Borg and Colm Regan
Chapter 8: Women, Development and (dis)empowerment by Ciara Regan
Chapter 9: Climate Change and Development by Tony Daly, Lorna Gold and Jerry Mac Evilly
Part Two: Issues and Challenges
Chapter 10: Migration and Development by Amal de Chickera, Phil Glendenning, Paul Power and Colm Regan
Chapter 11: International Trade and Development Today by Bertrand Borg and Colm Regan
Chapter 12: Food is Power by Michael Doorly and Patrick Hayes
Chapter 13: Basic Needs, Population and Development by Beatrice Maphosa
Chapter 14: Debating Aid – moving beyond pantomime by Mary Rose Costello and Colm Regan
Chapter 15: Making Change – ideas, experiences and arguments by Tony Daly, Grace McManus and Ciara Regan