Over the course of 2017, a group of students led a design experiment: to see what a school might look like if the meaning and ambition of the globally agreed Sustainable Development Goals were realised in their school.

The team of 37 student-activists used the popular computer game Minecraft as a digital learning tool to realise their ideas for changing their school community environment, one brick (or block) at a time.
Minecraft is a construction game where users dig (mine) and build (craft) different kinds of 3D blocks within a large world of varying terrains and habitats to explore.
17 Goals. 1 School. And Minecraft. involved more than 30 students and 10 teachers across the Pres College Bray school community as an experiment in innovations within activism.
Work of the of the project to date: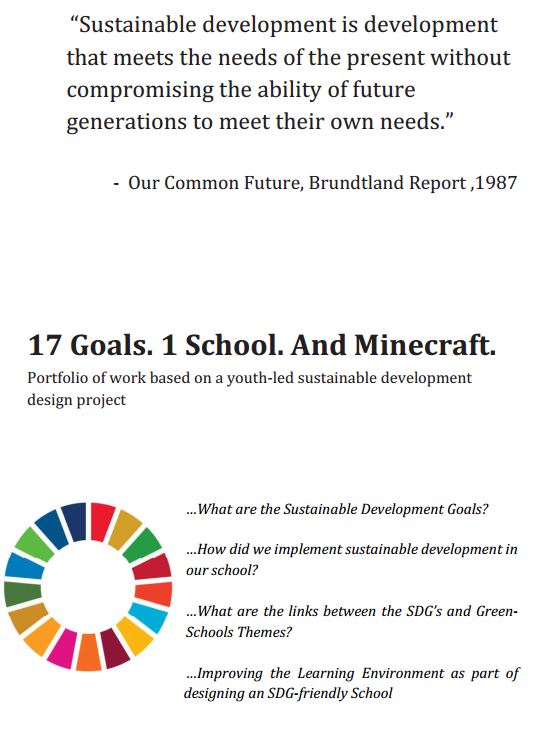 Project installations, exhibitions and coverage

Pres College Bray community launch, 2018
Let's Talk Bray peer-share showcase event at Loreto Bray, January 16th 2018
Field visit and tour of live project work with student delegation from secondary schools, November 2017
National TV coverage: news2day report on RTÉ 1, November 30th 2017 (available on RTÉ Player)
More information
This project was produced by the students and staff of Pres College Bray and 80:20 Educating and Acting for a Better World as part of Let's Talk Project, which is supported by Concern Worldwide.
Pres College Bray project news, updates and more presbray.com
Let's Talk is an education and action project which involves young people discussing, debating and taking action on issues of conflict, peace, reconciliation, climate change, sustainable development and justice in Ireland and beyond.
For more information and queries, get in touch.