"I feel my stomach drop as it hits me, I think I am a stateless person. I wonder if my birth was registered, and I also wonder if birth registration alone is enough to prove where I belong. I go through my now familiar coin ritual, shaking the purse before I pick one out. I wonder where I will be taken next."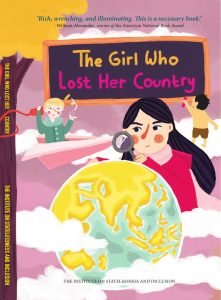 Join Neha as she travels around the world in an amazing adventure of discovery, visiting new countries, making new friends, learning about statelessness and all the while piecing together bits of the puzzle about her own nationality.
80:20 is delighted to be involved in the development of this book for children published by the Institute on Statelessness and Inclusion.
For children
The children's book "The Girl Who Lost Her Country" and children's website "Learning about statelessness with Neha" are an effort to promote a genuine dialogue with and among children about the right to a nationality and what it means. The inspiration behind the book and the website is Neha: a remarkable girl who grew up stateless in Nepal and has herself become an activist for citizenship rights.
For teachers
"Teaching About Statelessness with Neha" is a comprehensive teaching guide for teachers and educators alike. It was developed to accompany "The Girl Who Lost Her Country" and features 12 multidisciplinary, interactive and creative activities designed to teach children about Borders & Belonging (Theme 1) and Citizenship & Rights (Theme 2), by exploring the causes and impact of statelessness and looking at real-life examples from around the world.