Ahead of the UN High Level Political Forum in July 2018, Coalition 2030 has identified several key issues that warrant particular attention with regard to Ireland's implementation of the Sustainable Development Goals (SDGs).
The shadow report prepared by Coalition 2030 members:
sets out some of the most pressing issues with regard to Ireland's SDG performance from the standpoint of Coalition 2030, including the weaknesses in Ireland's recently-published National Implementation Plan; its poor performance in meeting commitments on overseas development aid (ODA); its continuing facilitation of international tax abuse; and extremely worrying trends in greenhouse gas emissions.
provides an analysis of Ireland's performance to date on each of the 17 SDGs
sets out existing policy commitments corresponding to the Goal in question, along with recent trends in relevant targets and indicators,
provides a set of actionable recommendations that, if implemented, would serve to ensure achievement.
highlights examples on international issues where Ireland's engagement through its bilateral relations and the institutions of international governance may be serving to significantly support or impede progress towards the SDGs in other countries.
This report is not intended to cover every target and indicator. Rather it reflects the insights and assessments of Coalition 2030 members, working on many of the critical elements of this Agenda 2030.
Notes:
The Government will be presenting its Voluntary National report before the United Nation's High Level Political Forum on Tuesday, 17 July 2018.
In April this year, the Government set out its plans in the National Implementation Plan, spearheaded by the Department of Communications & Climate Action (DCCA).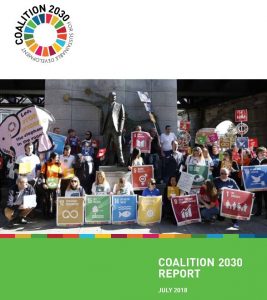 Publication date: July 17, 2018
Download: Coalition 2030 Report
Access the press release
80:20 is a member of Coalition 2030 and was involved in preparation and release of the shadow report.  For more information about Coalition 2030, visit ireland2030.org