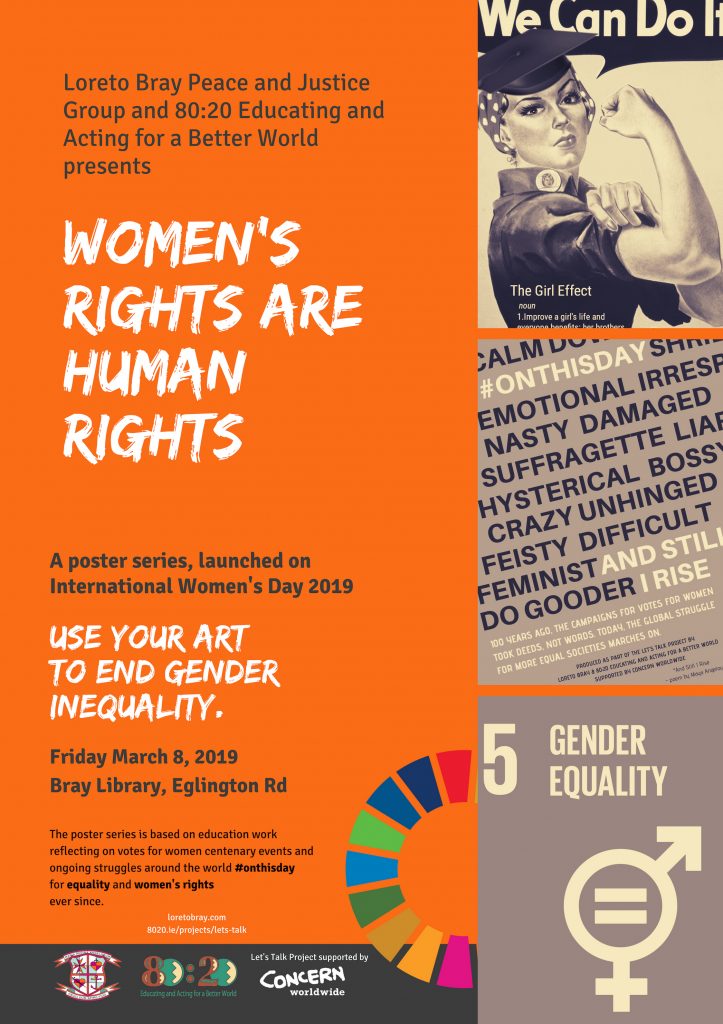 Thirty-six students from the Peace and Justice group in Loreto Secondary School Bray, in conjunction with 80:20 Educating and Acting for a Better World, launched a poster art series on March 8th, 2019 on International Women's Day on the themes of women's rights and 'on this day' historical events.
A central idea to the posters by the students and project team, on exhibition at the launch event in Bray Library in Bray, Co. Wicklow, spoke in celebration to past achievements in the women's rights movement and in protest when comparing them to similar and ongoing daily struggles experienced in the lives of women and girls in today's world.
Actions, not words; four stealth bombers greater than or equal to the annual cost of ending maternal mortality?; the gender pay gap; education and 'the girl effect' – a sample of some of the most important issues for girls and women raised by the group in the poster work discussions and exercises.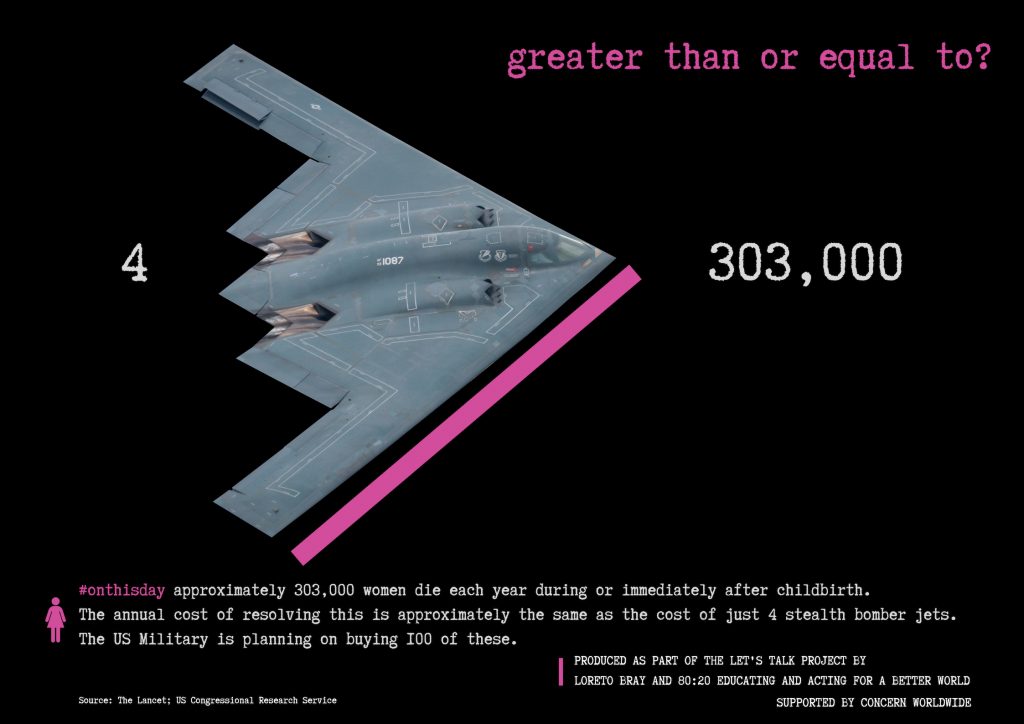 In developing the Use Your Art to End Gender Inequality posters the Peace and Justice group marked the centenary year of suffrage activities and commemorations as reference points for young people, particularly girls, to learn about and be inspired to act on women's rights (and wrongs); as a reminder of and a tribute to the power of posters historically in generating conversations and interest in women's issues and as a mirror to highlight examples of gender discrimination and violence women face every day in public life, in the labour market and at home.
Participants have been involved in a range of cluster group activities over a 17 month period, including:
Download the posters
Posters are made available for non-commercial use. For republishing, media and print queries, get in touch.
See the press release on the launch event.
Background data
Poster 1:  Women's Tax
Poster 2: We Can Do It
Poster 3: And Still I Rise
Poster 4: Greater Than Or Equal To?
Other notes
Project leaders: Tony Daly, Ciara Regan and Linda Quigley.
About Let's Talk
Let's Talk is an education and action project which involves young people discussing, debating and taking action on issues of conflict, peace, reconciliation, climate change, sustainable development and justice in Ireland and beyond.
The project has been running for over 20 years, co-ordinated by 80:20 Educating and Acting for a Better World.
Let's Talk is supported by

Page updated: March 8th, 2019