Exhibition: The exhibition is open to the public from Monday 8 April until Tuesday 16 April 2019 (closed on weekends). Details of exhibition, see NCAD Gallery.
Address: National College of Art & Design, 100 Thomas Street, Dublin, D08 K521, Ireland.
More info: twitter.com/NCAD_Gallery | instagram.com/ncad_gallery | facebook.com/NCADGallery   
80:20 Educating and Acting for a Better World is delighted to take part in the Change Lab 2019 exhibition process in the National College of Art and Design (NCAD) with Fiona King and Tony Murphy of the School of Education, Anne Kelly, NCAD Gallery programme curator, Jones Irwin of Institute of Education, Dublin City University (DCU), educationalist and Development Options associate Gerry Jeffers, Deirdre Hogan of the Ubuntu Network and Tony Daly of 80:20.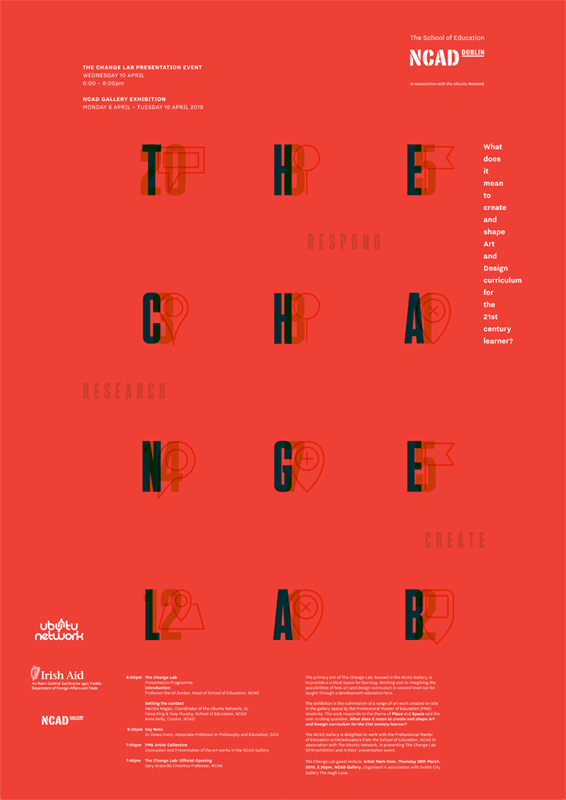 The Change Lab is a critical space for learning, thinking and re-imagining the possibilities of how art and design curriculum in second level can be taught through a development education lens as explored by students taking professional masters of education (PME) in art and design as part of the Ubuntu Network's initial teacher education approach to engage with local and global development issues.
This year's group involved 17 students in 5 teams to conceive, research and produce original artwork on the theme:
What does it mean to create and shape art and design curriculum for the 21st century learner?
About the five projects
In search for a sense of place how do we trace the anatomy of a city back to its beating heart, how can we make connections that go beyond the physical? by Emma Byrne, Kate Cunningham and David Bowe
As custodians and educators, we want to encourage, cherish and respect lineage through intergenerational connections. By Robin Edward Leavy, Audrey Noonan and Briona Reynolds
In Convenience Store. At What Cost? By Maeve Hitchen, Rachel Foley and Gary Deegan
The Worst is yet to come!! Which raises the question, what is being done to preserve the future? By Pierce Healy, Louise Meehan, Kim Fulton and Leanne McCullagh.
The exploration of the human trace on the environment was the running theme throughout our work. The absence of the human figure was also evident which made us question the impact of our actions in the world by Ciarán Doyle, Catherine Hanlon, Lauren Sarsfield, and Aisling Flood.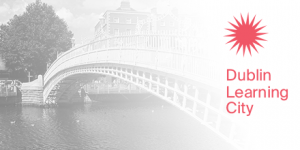 The Change Lab 2019 is part of the first Dublin Learning City Festival which takes place from Monday 8 – Friday 12th April.  The aim of this festival is to establish sustainable intergenerational learning communities in the city and to work towards becoming a Learning City, as defined by UNESCO.